Undari Template
Character information
Name:
Arilia Morin The Blight cursed
Age:
24
True age:
144
Sex:
female
Personality:
"My Mother destroyed the undari while seeking revenge, and cursed our bloodline." - Arilia Morin.
Arilia morin is the granddaughter of Analia Morin, Legendary Undari warrior. However what fame the name may once have brought, it's reputation has been ruined by the actions of Arilia's mother Naderi Morin, Blight witch of medin Taji. Arilia's line is cursed, the corruption of her mother's backfired spell is slowly corrupting her and driving her mad. One day she will replace her mother as the blight witch of medin Taji, unless she kills her and ends the curse first.
Arilia is distant. She avoids contact with people, though she prefers to spend time in large cities where she's less likely to be noticed. She has trouble creating connections and is always fearful that she will be attacked for what she is. While she is not overly timid, Arilia does her best to avoid attention. She doesn't like conflict if it can be avoided, though she is well capable of defending herself thanks to her father. She finds it hard to trust, but often when someone does gain her trust, they gain a stalwart friend. When Arilia is drawn out of her shell, she is quite friendly and companionable.
Arilia was raised by her father far from Medin Taji. She was born a few years before her mother destroyed the undari, and knows very little of her peoples customs. The only thing she had from that time is Seastorm, her trusted Bident. Arilia loves the water, though this is probably obvious, and is drawn towards cities with access to the sea or rivers. Despite her age, she is somewhat naive about the world as a whole, having been sheltered for years by her father. She has a desire to explore and learn about the world, but she first she needs to survive.
There is another reason Arilia avoids contact with people, and that is the curse. When she was younger her father was able to manage the curse with similar magic that created it, but with his recent death, the Curse's corruptive nature is beginning to eat away at her her mind slowly. Fighting and using her powers tends to drive her into a rage and speeds up the corruption, which is why she does her best to avoid it, but there have been several incidents where she's been driven mad and caused great harm. The more often this happens, the harder it is to resist the madness.
Sometimes, Arilia hears her mother's voice, calling to her to return to medin Taji. This usually happens right before the madness takes hold, or she's been extremely injured. Arilia is not driven by vengeance, or hatred, she just wants to be free from her mother's mistakes. Arilia is aware that her grandmother was somewhat of a legend, a hero to her people even. She however, does not feel as if she is cut from the same cloth as the woman who fought beside Ren the Hornless and died gloriously fighting Dalrodir shor.
Likes/dislikes:
She likes swimming, the cold, and fruit cake. She dislikes dry climates, being forced to harm people, and Jellyfish.
Fears:
Her powers, the curse and her mother.
Appearance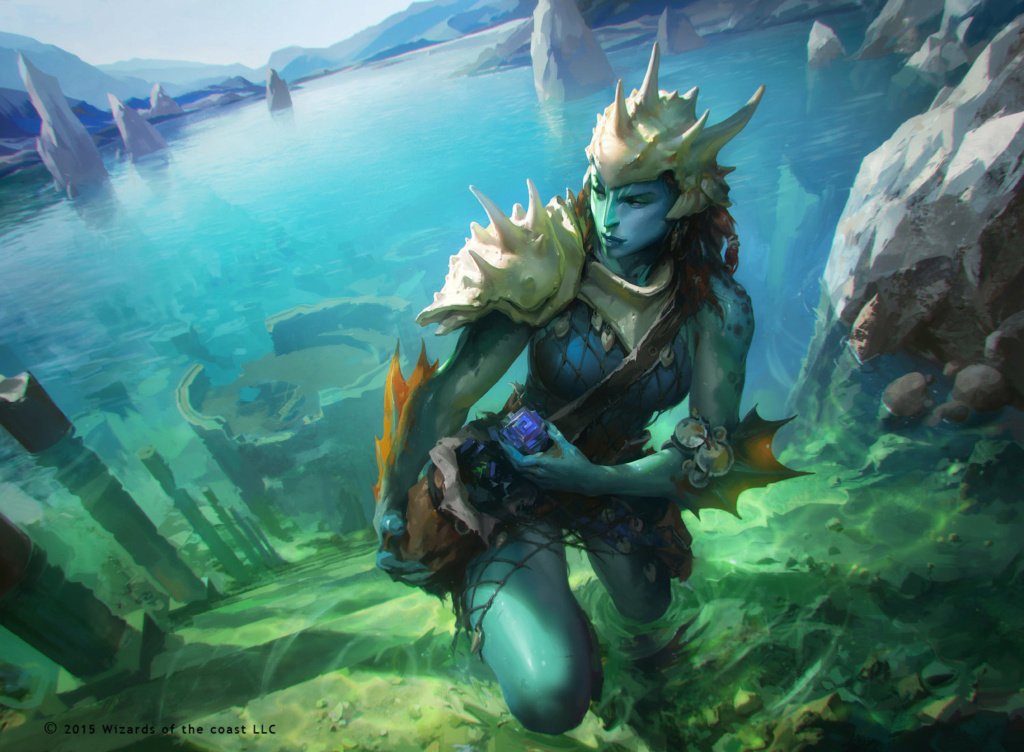 height:
5'9"
weight:
132lbs
Appearance:
Arilia has aqua colored skin with medium green markings in the form of lines on her face. She has long silky purple-red hair, which she keeps tied back in a high ponytail. She has orange webbed fins on her forearms, with the same colored webbing between her toes. She has sharp facial features, with slightly slanted opal eyes, deep blue in color.
clothing:
Arilia usually tries to wear clothing that suits the location she's currently in, trying not to stand out anymore than she already does. She usually opts for light skirts and tunics without sleeves. She never wears anything on her feet, neither socks, shoes or stockings of any kind. She also avoids jewelry. Underwater she wears a tight formfitting dress with netting for added style, but usually forgoes to decorative shell pieces. There's not enough undari left to impress with such dress style.
Fighting style
General Fighting Tactics:
Combat Stats-
Strength
|| Fair
Speed
|| Good
Agility
|| Average
Durability
|| Poor
Stamina
|| Average
Magical power
|| Very Good
Strengths:
Weaknesses:
Weapons
Celestial Shell WeaponName:
Seastorm
Type:
Bident
Description:
Seastorm is a bident, a double headed spear with two prongs that curve in an s shape out from the handle and back towards each other before running perpendicular with each other. Each prong is 1 foot long with serrated edges and razor sharp points. The entire weapon is made of Celestial shell, a deep sea blue in color. The handle is five foot long, giving Arilia excellent reach and keeping her away from tougher opponents.
Enchantments:

Name:
Type:
Damage Category:
Description:
Duration/Cooldown:

Secondary EquipmentName:Type:Description:
Apprentice Water Abilities
Name:Type:Damage Category:Description:Cooldown:
Apprentice Custom Abilities
Name:Type:Damage Category:Description:Cooldown:
Name:Type:Damage Category:Description:Cooldown:
Name:Type:Damage Category:Description:Cooldown:
Regular Water Abilities
Name:Type:Damage Category:Description:Cooldown:
Regular Custom Abilities
Name:Type:Damage Category:Description:Cooldown:
Name:Type:Damage Category:Description:Cooldown:
Name:Type:Damage Category:Description:Cooldown:
Elite Water Abilities
Name:Type:Damage Category:Description:Cooldown:
Elite Custom Abilities
Name:Type:Damage Category:Description:Cooldown:
Name:Type:Damage Category:Description:Cooldown:
Name:Type:Damage Category:Description:Cooldown:
New Boosts:
Background
History:
_________________
Valatrix "Vala" Of The Hornless Clan A-5 Heanta
Bethany "Mercy" Merciallus A-5 Asentari
Korroth Vex Of Clan Vandel A-5 Heanta
Lilian Toral A-5 Human
Admin





Posts

: 298


Join date

: 2013-04-14


Location

: Wee ol Ireland

Resources
Resources: 950



---
Permissions in this forum:
You
cannot
reply to topics in this forum