Eldari Magi
Character information
Name:
Eldris Ellarian
Appearance Age:
Late teens/Early 20s
True age:
53
Sex:
Male
Personality:
Described by his peers as unpredictable and headstrong, Eldris Ellarian is not a typical Eldari. He is rambunctious, and he acts very much on instinct. While his natural talent and potential are respected well enough, there are those higher up who believe his recklessness will hinder his development into the powerful Magi he is seemingly destined to be. Only time will tell if he can fulfill his potential. In the present, however, Eldris is happy take things one day at a time and enjoy the moment. He is a laid-back and relaxed individual, though he does get serious when the situation calls for it. He maintains a happy-go-lucky attitude towards life in general, and the only time he truly knuckles down and focuses on something is when he is training.
Eldris' charm and easygoing demeanor has made him popular among his age group, and his impressive magical skill has allowed him to garner some respect, while remaining relatively grounded. Amongst the higher-ups of Eldari society, he is decidedly less popular. The elder generations consider him a bit of a maverick, given his unorthodox style and his general non-conformity. While his talent got him into the Eternal Watch, there are those who believe he is a liability to the organization with his lack of discipline and insistence on carving his own path rather than following the traditional ways of the Eldari. A few have even questioned his loyalty to his people, though those that know Eldris know that loyalty is not something he lacks.
In actuality, Eldris is immensely loyal to his fellow Eldari. However, he is part of a growing number of Eldari that believe the Eldari race are beginning to fall behind other races due to their staunch enforcement of tradition and reluctance to embrace outside culture. His appearance and attitude are as much a statement to this effect as they are personal preference. Eldris simply believes that his people must learn to change for the greater good, rather than be stuck in the past and relying on stale routine to get by. There is an increasing number of Eldari who feel the same way, and Eldris finds himself with a great deal of admiration for the legendary wizard Merlin, one of the main advocates of this movement.
Eldris loves a good fight. In addition to his magical talent, he has trained extensively in various martial arts from the places he has traveled to. He loves nothing more than testing his skill against formidable opponents, often jumping into ill-advised encounters without thinking in order to do so. However, Eldris dislikes the idea of war. Testing your skills against another in a fair fight is one thing, but the nature of war is hatred, hatred breeds catastrophe. The death toll of the wars in the past is staggering, and Eldris is keenly aware of the waste of life a war inflicts. He also has a deep sense of honor when he fights, which he sticks to vehemently. He will not attack a helpless opponent, and he will always fight fairly. He avoids killing unless absolutely necessary.
When it comes to dealing with other races, Eldris is very much an open-minded individual. He has managed to travel the land extensively despite his relatively young age, and he has developed a deeply-held appreciation for the way other races do things. He is fascinated by Humans the most, impressed by their ability to stand firm throughout history despite their relative lack of power or toughness. He has met Asentari before, but only a handful of times, and he still knows very little about them. He is wary and mistrustful of Heanta, as the rest of his race are, but he still respects their power, though he will still fight them if necessary.
Likes:


Traveling: Eldris is a nomad by nature, getting restless if in one place too long. He has gotten through a tremendous amount of travel despite his young age and his duty to the Eternal Watch. He volunteers for field duty as much as possible in order to see more things while still getting work done.

An Old-Fashioned Scrap: While Eldris dislikes conflict and the death and destruction it brings, he is a sucker for a good dust-up. He enjoys testing his skills against different opponents, and while he respects strong foes, he will still try and beat them, even if he is outclassed.

Freedom: Eldris believes that freedom should be the ultimate goal of all beings. This comes not only in the freedom to go where he wants, but also the freedom to express oneself. This makes a healthy and diverse culture.

Dislikes:


Killing: Andreas loves a good fight, but he is loathe to kill to end a fight. He knows that sometimes it is unavoidable, but he still tries non-lethal methods before resorting to lethal ones.

Old Traditions: Eldris has a deep respect for the past exploits of his people, but he knows in his soul that unless the Eldari learn to expand their horizons and keep up with the ever-changing landscape on Asmir, they will fall behind the other races and stagnate.

Dishonorable Conduct: Eldris is an honorable fighter, and he fights cleanly and fairly against most opponents. He despises dirty tactics and he will never stoop low enough to make use of them. He refuses to harm civilians, he refuses to attack a foe from behind, and he will avoid attacking a helpless enemy unless they are particularly dangerous.

Fears:


Heights: Despite Eldris' willingness to travel and take on fearsome foes, one thing he has not conquered is his fear of heights. He even goes so far as to request the bottom bunk when sharing a barracks. Needless to say, flying mounts are also a no-no.

:

:

Appearance
Height:
5' 11"
Weight:
165 lbs
Appearance:
Eldris appears as a youthful and athletically-built young man. Though he is a Magi and thus has spent a vast amount of his time studying the art of magic, his decision to train in martial arts has led him to possess a toned and functional body, without being too bulky. One notable detail of his appearance is that he has chosen to forgo the traditional long hair that other Eldari possess, instead wearing his black hair short and choppy. Like others of his race, he has piercing yellow eyes that almost seem to glow with a magical fluorescence.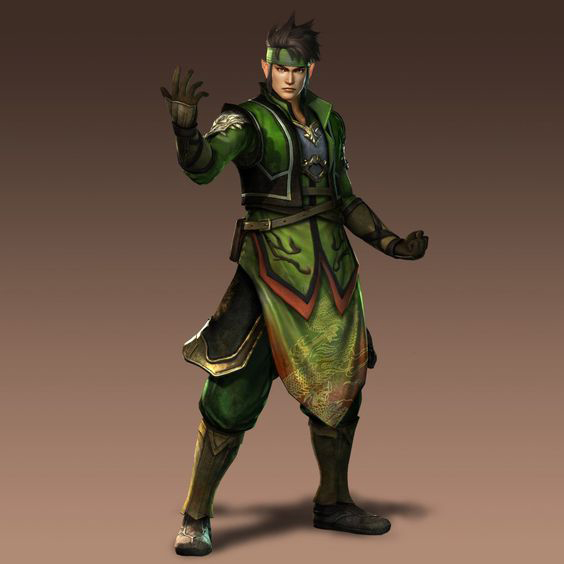 Clothing:
Eldris' fondness for the color green is immediately evident in his choice of clothing. His hair is held out of his way by a green headband, while he wears an assortment of light clothing in various shades of green as well. He favours simple garb, wearing baggy pants tucked into durable travel boots. He wears a long-tailed cotton martial artist's shirt, with a sash around his waist and a sleeveless jacket over the shirt. The whole ensemble is green with a distinctly Eastern theme to it.
Fighting style
General Fighting Tactics:
Eldris is an instinctive and free-flowing combatant, and he overcomes his lack of experience with natural talent and awareness. He uses his ranged powers to harass the enemy and/or distract them in order to close the distance, and once in range he uses his melee powers in conjunction with his normal attacks to overcome the enemy. Eldris mainly utilizes strikes, particularly with his hands and elbows, though he is more than capable of grappling an enemy to subdue them if he needs to. He compensates for his lack of power with technique and agility. He is not the fastest, which can cause problems against rangy foes with superior speed, but his ample supply of magical power means he can trade volleys to an extent, though even his range powers are limited in distance.
In a larger scale battle, he lacks the tactical nous of a more experienced combatant, relying instead on his own instincts to guide him through. He uses his awareness and positioning to control engagements on his own, but he is almost a liability to allied units with his impulsiveness and lack of strategic knowledge. He also possesses a deep sense of honor, avoiding attacking a helpless enemy, though he will not hesitate to kill when necessary.
Combat Stats-
( All stats are considered average unless stated. Stats must be balanced. You must decrease a stat to increase a stat. Raising one to good means you must lower one to fair. Read The Character Combat Stats Guide for more information)
Strength
|| Average
Speed
|| Fair
Agility
|| Good
Durability
|| Poor
Stamina
|| Average
Magical power
|| Very Good
Strengths:


Melee Combat: Eldris is an extremely proficient hand-to-hand combatant, and is extremely dangerous once in range. He has mastered a number of different styles, but mainly utilizes strike-based offense over grappling. His natural talent also allows him to move through ranges to be where he needs to be to smack a foe.

Spatial Awareness: Eldris has a natural awareness that lends itself well to fighting. He scans his surroundings constantly in order to remain keenly aware of the environment at all times, and this improves his maneuverability significantly. While not the fastest or the most agile, he possesses enough of both to make use of this trait to control the battlefield with his positioning.

The Flame of Youth: Eldris possesses a youthful exuberance that few Eldari possess. If needed, he will fight until he can't fight anymore. This also means he is less likely to be shaken by pain or fear, though these will still affect him in other ways. This trait also gets him into trouble sometimes - see Recklessness below.

Weaknesses:


Recklessness: Eldris' youthful vigor is an asset a lot of the time, but it can also be his downfall. Without something special to make him pause, he will jump headfirst into situations, and sometimes this results in him catching an ass-whooping when he picks the wrong time to fight.

Range: Eldris relies on his powers for range, and even then he still lacks the range of other Magi and even fighters of other races. His ability to control a battlefield with his positioning helps him here, but against a rangy combatant who is more maneuverable his effectiveness is dampened.

Inexperienced Tactician: Eldris is a naturally talented combatant, but he is still raw in a lot of the aspects of war. He is not good when it comes to strategy or prudence, and he is a thorn in the side of his superiors with his recklessness and unpredictability. He often finds himself in the wrong place at the wrong time in a battle.

Equipment
Primary EquipmentName:
Ember Celica
Type:
Gauntlets
Description:
Ember Celica is a pair of enchanted gauntlets that Eldris had made some time ago. The gauntlets provide excellent protection, but their main purpose is offensive. They extend over the elbows and are comprised of overlapping Divinium plates with a boiled leather glove underlining them. The arrangement of the plates allows Eldris full mobility in his elbow and wrist joints without sacrificing structural integrity.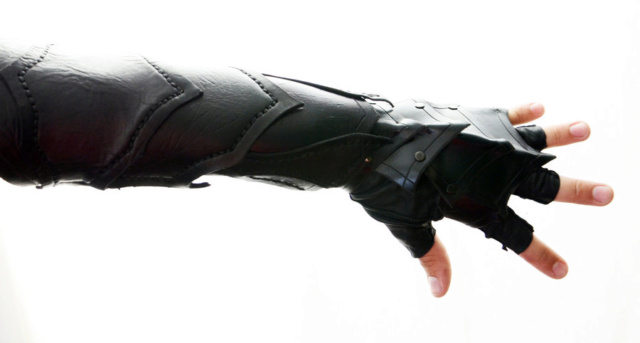 Enchantments:

Name: (this can be anything. Mostly for flavor.)
Type: (Offensive, Defensive, Support, Restorative)
Damage Category: (If any; Very Weak, Weak, Average, Strong, Very Strong)
Description: (give the ability a good description to show how it works and what it does)
Duration/Cooldown: (all abilities have cooldowns. Some have durations, which is measured in posts)

Secondary EquipmentName:
Eldris' Kickers
Type:
Leg Armor
Description:
Eldris wears into combat a set of protection on his legs that is essentially a pair of schynbalds with extra knee protection. The armor covers the front of the lower leg as well as the knee, and the set is made of Aurilium to cut down on weight.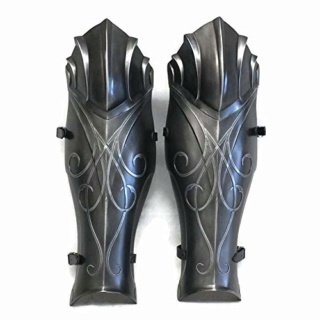 Eldari Racial Abilities
Poison Resistance
: Because the Eldari are inherently magical beings, their bodies are far faster at locating and eliminating threats that would infiltrate them. As a result, they recover much quicker from the effects of poisons than other races would. This cuts 1 post of duration of all poisons inflicted on an Eldari. For example, if an Eldari is inflicted with a poison that lasts for 4 posts, it will only last for 3 posts. It also increases a poison's grace period by a post.
Prestidigitation
: - This ability is a minor magical trick that novice spell-casters use for practice. You create one of the following magical effects within range:


You create an instantaneous, harmless sensory effect, such as a shower of sparks, a puff of wind, faint musical notes, or an odd odor.

You instantaneously light or snuff out a candle, a torch, or a small campfire.

You instantaneously clean or soil an object no larger than 1 cubic foot.

You chill, warm, or flavor up to 1 cubic foot of nonliving material for 1 hour.

You make a color, a small mark, or a symbol appear on an object or a surface for 1 hour.

You create a nonmagical trinket or an illusory image that can fit in your hand and that lasts for a few minutes.

Magi Abilities
(As you invest ability points into your Magi Abilities, list the abilities and their levels here, e.g. "Elementalist: Ice Level 2" or "Blessing of Na'Sora: Magic Level 2". For the full list of Magi Abilities, go
here
.)
Custom Powers
Apprentice Powers
Name:
(this can be anything. Mostly for flavor.)
Type:
(Offensive, Defensive, Support, Restorative)
Damage Category:
(If any; Very Weak, Weak, Average, Strong, Very Strong)
Description:
(give the ability a good description to show how it works and what it does)
Cooldown:
(all abilities have cooldowns.)
Name:
(this can be anything. Mostly for flavor.)
Type:
(Offensive, Defensive, Support, Restorative)
Damage Category:
(If any; Very Weak, Weak, Average, Strong, Very Strong)
Description:
(give the ability a good description to show how it works and what it does)
Cooldown:
(all abilities have cooldowns.)
Name:
(this can be anything. Mostly for flavor.)
Type:
(Offensive, Defensive, Support, Restorative)
Damage Category:
(If any; Very Weak, Weak, Average, Strong, Very Strong)
Description:
(give the ability a good description to show how it works and what it does)
Cooldown:
(all abilities have cooldowns.)
Name:
(this can be anything. Mostly for flavor.)
Type:
(must be Defensive or Support)
Damage Category:
(If any; Very Weak, Weak, Average, Strong, Very Strong)
Description:
(give the ability a good description to show how it works and what it does)
Cooldown:
(all abilities have cooldowns.)
Regular Powers
Name:
(this can be anything. Mostly for flavor.)
Type:
(Offensive, Defensive, Support, Restorative)
Damage Category:
(If any; Very Weak, Weak, Average, Strong, Very Strong)
Description:
(give the ability a good description to show how it works and what it does)
Cooldown:
(all abilities have cooldowns.)
Name:
(this can be anything. Mostly for flavor.)
Type:
(Offensive, Defensive, Support, Restorative)
Damage Category:
(If any; Very Weak, Weak, Average, Strong, Very Strong)
Description:
(give the ability a good description to show how it works and what it does)
Cooldown:
(all abilities have cooldowns.)
Name:
(this can be anything. Mostly for flavor.)
Type:
(Offensive, Defensive, Support, Restorative)
Damage Category:
(If any; Very Weak, Weak, Average, Strong, Very Strong)
Description:
(give the ability a good description to show how it works and what it does)
Cooldown:
(all abilities have cooldowns.)
Name:
(this can be anything. Mostly for flavor.)
Type:
(must be Defensive or Support)
Damage Category:
(If any; Very Weak, Weak, Average, Strong, Very Strong)
Description:
(give the ability a good description to show how it works and what it does)
Cooldown:
(all abilities have cooldowns.)
Regular Boosts:
(choose four +1 stat boosts for your character for this form. An example would be +1 stamina, +1 Durability, +1 Strength and +1 Agility. Max of +1 to any boost.)
Elite Powers
Name:
(this can be anything. Mostly for flavor.)
Type:
(Offensive, Defensive, Support, Restorative)
Damage Category:
(If any; Very Weak, Weak, Average, Strong, Very Strong)
Description:
(give the ability a good description to show how it works and what it does)
Cooldown:
(all abilities have cooldowns.)
Name:
(this can be anything. Mostly for flavor.)
Type:
(Offensive, Defensive, Support, Restorative)
Damage Category:
(If any; Very Weak, Weak, Average, Strong, Very Strong)
Description:
(give the ability a good description to show how it works and what it does)
Cooldown:
(all abilities have cooldowns.)
Name:
(this can be anything. Mostly for flavor.)
Type:
(Offensive, Defensive, Support, Restorative)
Damage Category:
(If any; Very Weak, Weak, Average, Strong, Very Strong)
Description:
(give the ability a good description to show how it works and what it does)
Cooldown:
(all abilities have cooldowns.)
Name:
(this can be anything. Mostly for flavor.)
Type:
(must be Defensive or Support)
Damage Category:
(If any; Very Weak, Weak, Average, Strong, Very Strong)
Description:
(give the ability a good description to show how it works and what it does)
Cooldown:
(all abilities have cooldowns.)
Elite Boosts:
(Choose another four +1 stat boosts for your character for this form. You can stack them on the previous forms boost, or add boosts to the other stat. An example would be +1 stamina, +2 Durability, +2 Strength +1 Agility, and +2 Magical power. Max of +2 to any boost)
Background
History:
(tell us about your characters past)
Side notes:
(anything else?)
Rp example:
(Give us an example of your rp style. Note, you only need to do this for your first character.)

_________________
Faylandrea "Fayla" Shor A-5 Eldari
Kairi Thorne A-5 Human
Knightfall A-5 Heanta
Andreas Toral A-5 Human
Admin





Posts

: 179


Join date

: 2013-04-16


Age

: 28


Location

: Ireland

Resources
Resources: 2000



---
Permissions in this forum:
You
cannot
reply to topics in this forum