Hello, I decided this be an interesting site to join. I also noticed that I could help out by making a more detailed map for you. If you like, I can take the current map and add a lot more detail and life to it. Below, I will add 2 photos to show what kind of work I can do to help out. Let me know if you're interested.
Previous Work from my personal projects.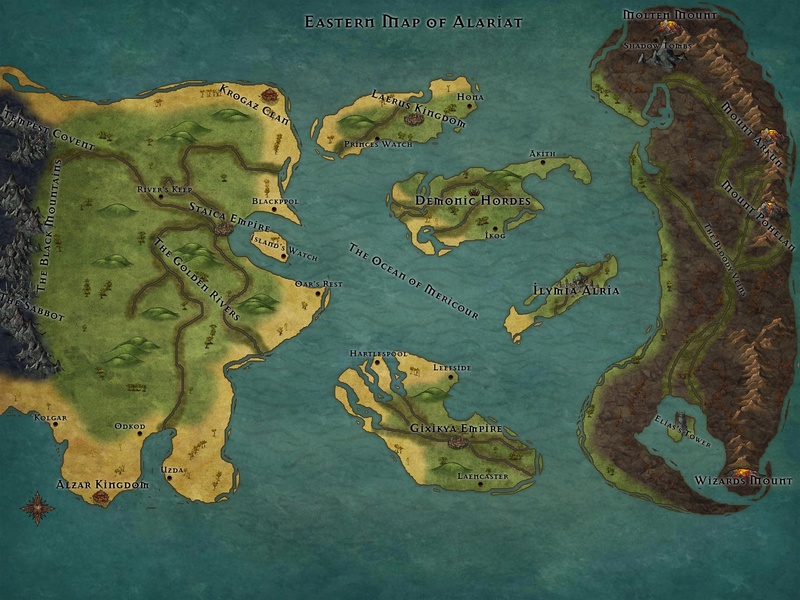 Beginner





Posts

: 1


Join date

: 2018-12-01



Hi there and Welcome! Its nice to meet you Defaox. Glad to see your interested in the site. You should think about joining us in the site discord so we can have a chat, and we can answer any of your questions concerning creating a character and getting started.

Also those maps are really good. Ours is a bit of a mess, mostly because i'm a very lazy artist. XD I am planning to get around to actually sprucing it up soon. What's there is more of a political map. However I'll keep your offer in mind if I run into trouble.

Again its nice to meet you. Hope to see you in the discord soon.
_________________
Valatrix "Vala" Of The Hornless Clan A-5 Heanta
Bethany "Mercy" Merciallus A-5 Asentari
Korroth Vex Of Clan Vandel A-5 Heanta
Lilian Toral A-5 Human
Admin





Posts

: 230


Join date

: 2013-04-14


Location

: Wee ol Ireland

Resources
Resources: 550


Hi Defaox!
Nice to see a new face on the site. We're close to fully opening the site too. We're just cleaning up some things and concluding the playtest, but you can make a character and start RPing immediately if you like! Hope to see you on the battlefield!
Link to our discord is here:
https://discord.gg/ZuRmbC
The link is available for 1 day, so give me a shout if you need another one.
Orgoth

_________________
Faylandrea "Fayla" Shor A-5 Eldari
Kairi Thorne A-5 Human
Knightfall A-5 Heanta
Andreas Toral A-5 Human
Miral Nerys A-5 Eldross
Admin





Posts

: 211


Join date

: 2013-04-16


Age

: 28


Location

: Ireland

Resources
Resources: 2550



---
Permissions in this forum:
You
cannot
reply to topics in this forum