Novaris, the Afterlife
Where there is life, there is also death in some shape or form. Asmir Ka'Lesa is no different from anywhere else in this regard. When a being dies, their body is destroyed and whatever is left of the physical vessel will forever be a part of Asmir. However, what was contained within begins a new journey, and thus it is widely accepted that death is not an end, but only a transition to a new existence. The soul of a being travels to a realm known as Novaris.
Novaris is an eternally grey realm without sunlight or moonlight, and thus no day or night. Deceased souls inhabit this realm and can interact with each other as they wish. The realm is governed directly by a being known as Necromor, Lord of Novaris. Necromor is not quite a god, but he is far beyond a mere mortal. He has maintained Novaris easily since the very beginning, with the only tests of his reign being the arrivals of two of the greatest warriors who have ever lived, Ren the Hornless and Dalrodir Shor.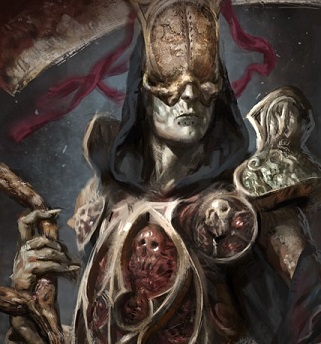 Ren arrived first, having fallen in the aftermath of the battle against the Kishin Dola early in the Second Age. Ren immediately set about picking up where he left off in the living world, challenging any of the denizens of Novaris to fight him. He dispatched challenger after challenger, and before long the Heanta grew bored of the lack of a challenge, and so he then confronted Necromor himself, intent on challenging the Lord of Novaris himself. Necromor accepted, not believing for a moment that a mortal could overcome him. However, Ren was no ordinary warrior, and after a long fight, Necromor found himself fighting for his life. He was spared by the timely arrival of another mighty being, Dalrodir Shor.

The Eldari had given his life to defeat the Dragon Onyxus, in the process saving not only the lives of his own people but that of Ren's daughter Celeana. Ren locked eyes on the Eldari as soon as he saw him, and a maniacal grin spread across his face. Shor returned the grin, knowing what Ren was looking for. From that point on, Ren the Hornless and Dalrodir Shor commenced a war for the ages. Each one scored victories over the other, but it was always a temporary victory. Their battles shook Novaris to the core, such was the power each man possessed now that they were no longer hampered by mortal bodies. Necromor was thoroughly entertained by the spectacle, relieved that they were only interested in fighting each other.

_________________
Faylandrea "Fayla" Shor A-5 Eldari
Kairi Thorne A-5 Human
Knightfall A-5 Heanta
Andreas Toral A-5 Human
Miral Nerys A-5 Eldross
Admin





Posts

: 259


Join date

: 2013-04-16


Age

: 29


Location

: Ireland

Resources
Resources: 2850



---
Permissions in this forum:
You
cannot
reply to topics in this forum