Human
Character information
Name:
Lukas Jaeger
Age:
20
True age:
26
Sex:
Male
Personality:
The stalwart warrior, he's a respectable man without being too carefree nor super strict. He joins the rank and file out there, and doesn't hang back unless the plan calls for it. There's few that matches his courage, including Kairi, and fewer still that can hold a line. He's generally good natured, if a bit on the quiet end, but won't hesitate to speak his piece. He won't sugar coat anything either, and be almost insultingly blunt.
He's a simple man, preferring the life of a simple soldier than a real leader or anything greater. Give him meat and potatoes and he's happy. Give him something fancy, and he'll wonder what it is and how to eat it. He's not a politician by any means, but he isn't that easy to manipulate either. Still, he's largely ignorant of major issues, and often wonders how things got so bad in the first place. He's not all that attentive really. That said, he's a good guy that's less happy go lucky than Arthur, but still reliable and easy to approach. He's often the middle man between the Covenant's higher ups and the general soldiery. He's no idealist, but he does firmly believe in cooperation. Like Arthur, he doesn't believe one should be nice to another because some deity ordered it, but also won't kick someone down for their beliefs either. Unless it's especially bad.
Open minded, he'll work with anyone, and judges based on personality and merits alone. Not birthright. Especially since he himself was a poor farm boy, and Kairi herself isn't a noble either. Greatness doesn't always come from high places. Sometimes, you have to go search in the dirt for something irreplaceable. He's not exactly shy either. But also won't boast unless it is something truly worth boasting about. Slaying a hundred men in a single battle? No. Slaying a fenroc on his own or other alpha predator? Yes.
Like most, he doesn't trust Heanta, and has no love for the Alliance and those that flex their power over others. He doesn't even like the Conclave for much the same reason. To him, there is little difference. If one needs help, give it to them. Not drive them out into the slums, not withdraw support for some petty differences. In a way, he hates the Conclave much more than the Alliance, since they don't hide behind a smile and similar ideals to the Covenant. They're almost more transparent than the Conclave.
Likes/dislikes:
Hot food and good drink, order. dislikes cowardice, disorder, overly magical people, the Conclave
Fears:
Necromancers, dragons, man-eating plants.
Appearance
Height:
Six feet even.
Weight:
174 lbs.
Appearance: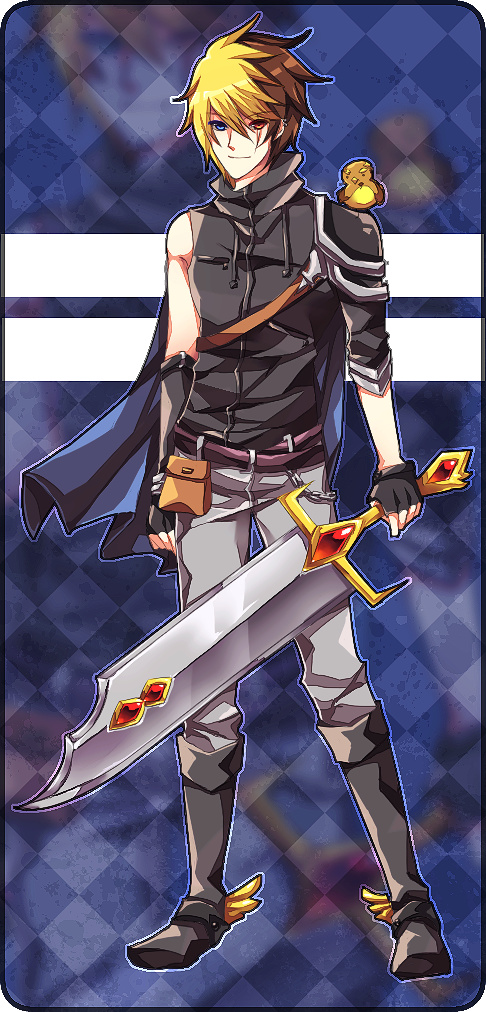 Clothing:
Fighting style
General Fighting Tactics:
A brute of a man, he's in the fight, up close and personal. And he doesn't back down. He focuses on using his brute strength to batter defenses and send opponents flying or splitting them in half. He's not that fast, and not particularly agile, so tanking is his method of dealing with most attacks. He doesn't do clever or anything like that, though he's a frontline soldier with an understanding of army strategies, but not so much small groups or single combat tactics. Just cleave the other guy in two.
Heroic Trait:
Inhuman Strength
Combat Stats-
Strength
|| Very Good
Speed
||  Fair
Agility
||  Average
Durability
|| Good
Stamina
|| Average
Magical power
|| Fair
Strengths:
(What are their strengths? This can include skills with weapons, fighting styles, intelligence, pain resistance, mild resistances to poison, elemental or magical attacks and so on. Minimum of 3 required.)
Weaknesses:
(What are their Weaknesses? This can include skills with weapons, fighting styles, intelligence, low pain tolerance, mild weaknesses to poison, elemental or magical attacks and so on. Minimum of 3 required.)
Weapons
Primary Weapon I:
Savior: A four foot long scimitar that is also eight inches wide throughout most of the blade, with only the last ten inches forming into the signature scimitar curve. It is still double edged. The guard and hilt is golden plated, and has two red gems embedded in it, with the larger one at the guard. Two smaller gems are embedded into the blade proper towards the tip. The blade itself and the tang is made of divinium. See appearance for picture of it.
It's enchantment allows him to fire off a Weak fire blast all around him, with a small range of five feet. A small area of effect attack. One post cooldown.
Primary Weapon II:
Silence: A three foot long weapon, with two feet of it actually being the part to smack people around with. A conglomerate of materials, the wooden part is twilight wood, while the metal band and balls embedded are enchanted steel. The metal band and balls cover 95% of the whacking part. The picture of it is below.
It's enchantment uses the metal balls to vibrate and emit a high frequency noise, that is actually visible as "waves" around the mace. If the weapon gets close to glass, it would shatter it completely. Against a person, assuming it doesn't break your body, it vibrates your very bones within two feet of the weapon. While not bypassing armor, it does give a sound blast that does Very Weak damage, but only within that two foot span. It rattles the ears and whatever armor they're wearing. It doesn't effect leather armor however. It lasts one post with a two post cooldown.
Secondary Weapon:
A small, seven inch dagger. The pommel has an eagle's head, and is fairly ornate. Picture is below. It is often hidden in his boot.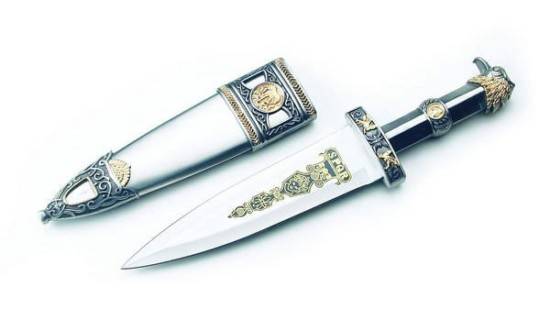 Custom Powers
Battle Mode
Name: Shockwave Blast
Type: Offensive
Damage Category: Weak
Description: He throws a punch or stomp kick, or swing his weapons, and releases a shockwave that takes the shape of said punch, kick, or weapon. The blow is weaker than normal, but gives him some range at 35 feet. It is concussive force, so even if made with his sword, it won't cut.
Cooldown: 1 post.
Name: Powered Strike
Type: Offensive
Damage Category: Strong
Description: Whatever limb, including head, this is used on, glows and orange electricity sparks around it. For a single strike, he increases is power, and adds onto his natural strength.
Cooldown: 4 posts.
Name: Tremor
Type: Support
Damage Category: N/A
Description: In an area of 50 feet around him, the ground cracks and shakes after he stomps, hopefully messing with other people's footing. It lasts for one post.
Cooldown: 1 post.
Name: Power Defense
Type: Defensive
Damage Category: Strong
Description: Whichever limb he chooses, he can enhance it similar to Power Strike, but instead of offensive purposes, it's strengthened for defensive purposes. It can only be a limb, and not his torso, but it basically makes that limb act like a divinium/twilight wood shield for a single attack.
Cooldown: 5 posts.
Name: Mage Vision
Type: Support
Damage Category: N/A
Description: His orange eye isn't just for show or genetic. It allows him to see the flow of magic power in people or beasts, but not the environment. Where it's concentrated at, and even enemies hiding using magic is visible to him. This costs two power points to maintain, and lasts two posts.
Cooldown: 4 post cooldown
Enhanced Battle Mode (Unlocked at R-1)
Appearance:
New powers
Name: (this can be anything. Mostly for flavor.)
Type: (Offensive, Defensive, Support, Restorative)
Damage Category: (If any; Very Weak, Weak, Average, Strong, Very Strong)
Description: (give the ability a good description to show how it works and what it does)
Cooldown: (all abilities have cooldowns.)
Name: (this can be anything. Mostly for flavor.)
Type: (Offensive, Defensive, Support, Restorative)
Damage Category: (If any; Very Weak, Weak, Average, Strong, Very Strong)
Description: (give the ability a good description to show how it works and what it does)
Cooldown: (all abilities have cooldowns.)
Name: (this can be anything. Mostly for flavor.)
Type: (Offensive, Defensive, Support, Restorative)
Damage Category: (If any; Very Weak, Weak, Average, Strong, Very Strong)
Description: (give the ability a good description to show how it works and what it does)
Cooldown: (all abilities have cooldowns.)
Name: (this can be anything. Mostly for flavor.)
Type: (Offensive, Defensive, Support, Restorative)
Damage Category: (If any; Very Weak, Weak, Average, Strong, Very Strong)
Description: (give the ability a good description to show how it works and what it does)
Cooldown: (all abilities have cooldowns.)
Name: (this can be anything. Mostly for flavor.)
Type: (Offensive, Defensive, Support, Restorative)
Damage Category: (If any; Very Weak, Weak, Average, Strong, Very Strong)
Description: (give the ability a good description to show how it works and what it does)
Cooldown: (all abilities have cooldowns.)
Boosts:
(choose four +1 stat boosts for your character for this form. This can be stacked on a human's Heroic Trait boost. An example would be +1 stamina, +2 Durability (Heroic Trait), +1 Strength and +1 Agility. Max of +1 to any boost, and +2 to heroic Trait.)
Ascended Mode(Unlocked at E-1)/Ascended Hero Mode(Hero, Unlocked at E-5)
Appearance:
(Your appearance in this form)
New powers
Name: (this can be anything. Mostly for flavor.)
Type: (Offensive, Defensive, Support, Restorative)
Damage Category: (If any; Very Weak, Weak, Average, Strong, Very Strong)
Description: (give the ability a good description to show how it works and what it does)
Cooldown: (all abilities have cooldowns.)
Name: (this can be anything. Mostly for flavor.)
Type: (Offensive, Defensive, Support, Restorative)
Damage Category: (If any; Very Weak, Weak, Average, Strong, Very Strong)
Description: (give the ability a good description to show how it works and what it does)
Cooldown: (all abilities have cooldowns.)
Name: (this can be anything. Mostly for flavor.)
Type: (Offensive, Defensive, Support, Restorative)
Damage Category: (If any; Very Weak, Weak, Average, Strong, Very Strong)
Description: (give the ability a good description to show how it works and what it does)
Cooldown: (all abilities have cooldowns.)
New Boosts:
(Choose Another four +1 stat boosts for your character for this form. You can stack them on the previous forms boost, or add boosts to the other stat. An example would be +1 stamina, +3 Durability (heroic Trait), +2 Strength +1 Agility, and +2 Magical power. Max of +2 to any boost, and +3 to heroic Trait.)
Background
History:
(tell us about your characters past)
Side notes:
(anything else?)
Rp example:
(Give us an example of your rp style. Note, you only need to do this for your first character.)

_________________
Rex von Broven. Asentari. A-4
Nichol Shard. Human. A-2
Krad Obidaiya. Asentari. A-3
Lukas Jaeger. Human. WIP

Apprentice





Posts

: 127


Join date

: 2013-05-20

Resources
Resources: 950



---
Permissions in this forum:
You
cannot
reply to topics in this forum