Eldari Warrior
Character information
Name:
Faylandrea "Fayla" Shor
Appearance Age:
23
True age:
(how old are you really?)
Sex:
Female
Personality:
Faylandrea Shor dislikes her name for several reasons. She dislikes "Faylandrea" because she thinks it makes her sound more aristocratic than she would like, and thus makes everyone she meets call her "Fayla". As for her surname, having such a storied and revered family name is a weight all of its own. The legacy of her grandfather, the great hero Dalrodir Shor, draws attention and scrutiny from every corner of Eldari lands, and even beyond. Her parents have also created their own story in Eldari lore. Her mother, Mariel Shor, is a powerful Magi serving as a member of the Golden Council, and is the only daughter of Dalrodir Shor. Her father, Calrados Insari, was a renowned Eldross ranger. Together, the union of Mariel and Calrados was the first of its kind and as such, only served to magnify the already uncomfortable level of attention Fayla had to endure.
Underneath all of this, Fayla is a down-to-Asmir and courageous young Eldari Warrior, who likes nothing more than to roam the lands, recording all of the sights and sound Asmir Ka'Lesa has to offer in her trusty journal. She hates all of the stifling and boring diplomatic functions she has been forced to attend at the behest of her mother, and has been known to not show up on occasion. Fayla has very little time for diplomatic protocol and ceremony, a trait not lost on Mariel, as she has been forced to apologise time and again for her free-spirited daughter's misdemeanors. Fayla has a far simpler approach to life - spend time on people who deserve it, and forget those who don't.
Despite their contrasting outlooks and sensibilities, Fayla does share an unbreakable bond with her mother, a bond only strengthened by the death of her father at the hands of a rogue Heanta ambush party. Fayla understands her mother's values and reasons for doing the work she does, while Mariel understands that her daughter was never meant to be caged, and for the most part gives her free reign to thrive out in the wild. This wild side of Fayla was inherited from Calrados, and to repress it would not be right. Fayla has also displayed the stubbornness and dry sense of humor of the Shor bloodline, but also possesses the compassion and honor that earned both Dalrodir and Mariel so much respect.
Fayla possesses a deep sense of honor and a thriving curiosity of the world, and it is these traits that allowed her to strike a solid friendship and rivalry with Valatrix. It would seem that fate played its part in bringing together the granddaughters of the two mightiest heroes in the history of Asmir Ka'Lesa, and they have been inseparable ever since. Were it not for the physical differences, they could be mistaken for sisters. Fayla is fiercely protective of Vala, but they have been known to frequently have sibling-like squabbles, a lot of the time about the most inane of subjects. Together, they are both formidable and powerful, but they are also childish and immature. Indeed they have been known to squabble about whose turn it is to fight when faced with some of the land's mightiest monsters and enemies.
When it comes to fears, like Vala, there is generally no foe that Fayla is afraid of. She is a risk-taker and a daredevil, with her never-say-die attitude getting her out of situations almost as often as her skill. However, she has intense claustrophobia, sometimes having panic attacks in too small of a space, and she avoids crowds whenever she can. Mariel is well aware of this, and only asks her to be present at sparsely attended functions, in large rooms whenever possible. Fayla also has a deep-seated fear of necromancy and the Undead. Though Undead have yet to be sighted in Asmir Ka'Lesa, the stories she has heard from ship captains and traders have her on edge of the very thought of them.
Likes/dislikes:
Fayla likes reading, writing, travelling and fighting. She hates being compared to previous Shors. She also dislikes wasting time with politics and ceremony.
Fears:
Confined spaces, crowds, Undead.
Appearance
Height:
5' 8"
Weight:
136lbs
Appearance:
Fayla appears as a lithe and slightly-built young Eldari. She possesses a striking resemblance to her mother, Mariel, inheriting her striking gaze, soft features, light-brown hair, and large ears. Emotions are easily conveyed through her expression, and she has been known to use this to her advantage on occasion to get out of things she doesn't want to do, though her mother has learned to see through this ruse. The most noticeable thing about her appearance is her green eyes. Whereas Eldari normally have yellow eyes, Fayla has inherited her father's Eldross eye colour.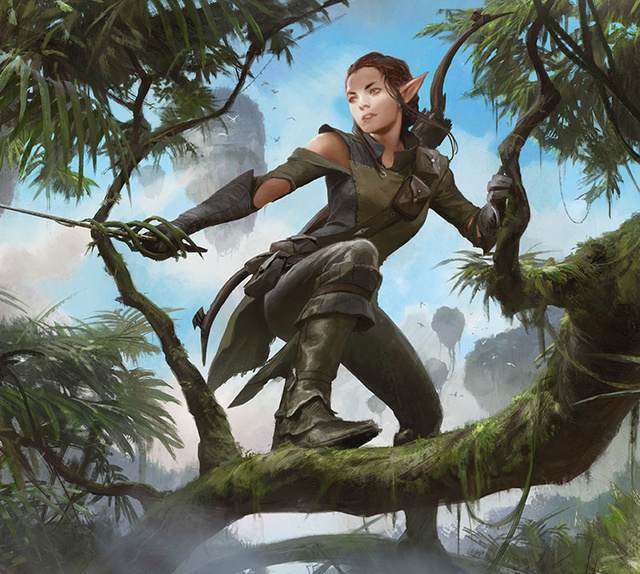 Clothing:
Fayla's choice of clothing is heavily influenced by her father's upbringing. Enjoying her time out in the wilds far more than the stuffy political events her mother had to go to, she leaned more towards the simple but practical garments of the Eldross Rangers. Her customary outfit consists of an olive-green tunic with a moss-green undershirt, moss-green padded gauntlets that covered the forearms, dark-green pants and a pair of simple dark-green walking boots. The one piece of elaboration in the outfit is a small leaf-shaped brooch of pure Divinium. The brooch is usually worn on the strap of her quiver, though when Fayla travels it is used to secure a black hooded travel cloak around her shoulders.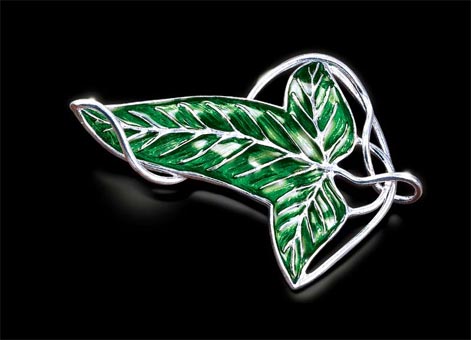 Fighting style
General Fighting Style:
Fayla is an eager and usually reckless combatant. While she is a decent archer, she only really uses her bow to harry an opponent as she charges, or to hit targets she can't reach. Once engaged in close-quarters, Fayla really comes into her own, and becomes a dangerous proposition for a potential foe. Fayla is well-versed in the traditional Eldari blade arts, and against lesser enemies this is usually enough. However, for the tougher opponents out there, a bit of creativity is required. Fayla is in her element when battles degenerate into ugly slugfests. She is a scrappy fighter, and she thrives in a chaotic environment, using the resourcefulness she inherited from both her father and her grandfather. She will use increasingly unorthodox techniques to keep the opponent on the back foot, formulating tactics on-the-fly instead of having an actual battle-plan. Fayla loves the thrill of the fight, and she gets better with every battle.
In the Heanta youth known as Valatrix, Fayla has both a perfect partner and rival. When the two team up and actually take a fight seriously, they are a match for many a foe. The two have an almost-telepathic link with each other, anticipating strategies and strikes seamlessly. Fayla attacks with a speed-based offense to make up for her lack of physical strength, and tries to maximise her natural strengths by using her environment to her advantage.
-Combat Stats-
Strength
|| Fair
Speed
|| Very Good
Agility
|| Good
Durability
|| Fair
Stamina
|| Good
Magical Power
|| Poor
Strengths:
Sword Skill: Fayla was a prodigious talent with a blade from a young age. This talent has only gotten better as she has matured. Even amongst her own race, Fayla is a renowned swordfighter with few equals amongst her peers.
Quick Wit: Fayla has an incredibly quick mind, and is able identify openings and weaknesses in an opponent's defence quite rapidly. Translating this info to her limbs is another story, but it's a start. She's also adept at finding strategic details in her surroundings, making her a very resourceful fighter.
Resistance to Mind-Altering Abilities: Fayla has a very strong mind, and has inherited her mother's stubbornness. Once her mind is set on something, it generally doesn't change, and this bull-headedness means that her mind is quite difficult to coerce.
Weaknesses:
Hand-to-Hand Combat: Fayla has invested so much in fighting with her race's chosen weapon, to the detriment of her unarmed melee combat. She is not afraid to throw fists, but her lack of training combined with her below-average physical strength means she generally comes off worst in those scenarios.
Weapons
Primary Weapon:
Grace
Description:
Grace is an elegant weapon, even by Eldari standards. It's curved blade is 40 inches long, and its handle is 10 inches long. The inscription on the blade is written in Eldari, and it reads "By the Grace of Na'Sora, you will be free". The handle is an elegant curved design with a vine pattern engraved in gold, and finished with a burnished gold pommel. The blade itself has a similar vine design engraved along its length with the inscription lying along it. There is a spur about 6 inches above the guard, and there is no edge betweethe spur and the guard. This serves as an extra gripping point when extracting it from an enemy. The scabbard is made of Twilight Wood and covered in leather, with a gold design painted along its length.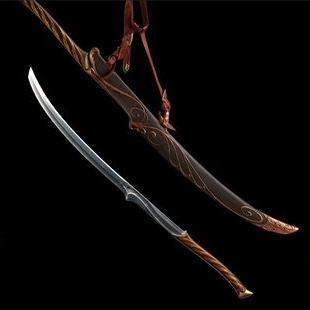 Secondary Weapon:
Vigilance
Description:
Vigilance is a perfect example of the amount of elegance one can extract from a very simple design. The bow is of a standard longbow design, made of Twilight Wood and about 4 and a half feet long when strung. It shares the same fine gold detail along its length, and the quiver is also ornately decorated. The arrows Fayla leaves home with are about 2 feet long, with the flights made from swan feathers, but dyed an autumn red color. The arrowheads are a mostly a bodkin design, with spurs near the base for maximum damage.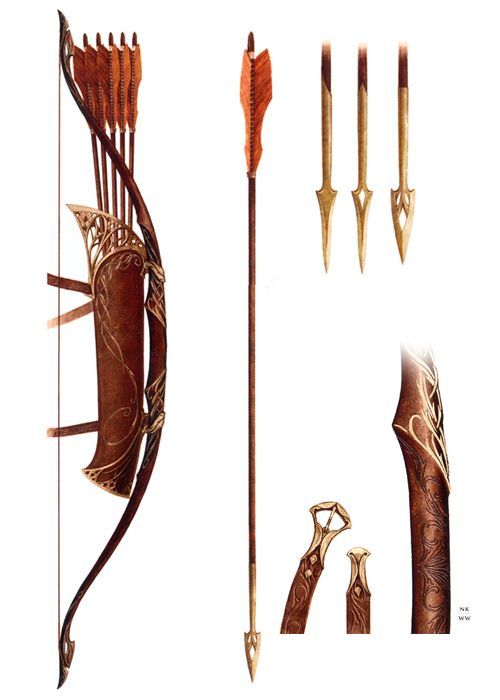 Eldari Racial Abilities
Poison Resistance
: Because the Eldari are inherently magical beings, their bodies are far faster at locating and eliminating threats that would infiltrate them. As a result, they recover much quicker from the effects of poisons than other races would. This cuts 1 post of duration of all poisons inflicted on an Eldari. For example, if an Eldari is inflicted with a poison that lasts for 4 posts, it will only last for 3 posts. It also increases a poison's grace period by a post.
Prestidigitation
: - This ability is a minor magical trick that novice spell-casters use for practice. You create one of the following magical effects within range:


You create an instantaneous, harmless sensory effect, such as a shower of sparks, a puff of wind, faint musical notes, or an odd odor.

You instantaneously light or snuff out a candle, a torch, or a small campfire.

You instantaneously clean or soil an object no larger than 1 cubic foot.

You chill, warm, or flavor up to 1 cubic foot of nonliving material for 1 hour.

You make a color, a small mark, or a symbol appear on an object or a surface for 1 hour.

You create a nonmagical trinket or an illusory image that can fit in your hand and that lasts for a few minutes.

Warrior Abilities
(As you invest ability points into your Warrior Abilities, list the abilities and their levels here, e.g. "Elemental Blade: Ice Level 2" or "Blessing of Na'Sora: Physical Level 2". For the full list of Magi Abilities, go
here
.)
Custom Powers
Apprentice Powers
Name:
(this can be anything. Mostly for flavor.)
Type:
(Offensive, Defensive, Support, Restorative)
Damage Category:
(If any; Very Weak, Weak, Average, Strong, Very Strong)
Description:
(give the ability a good description to show how it works and what it does)
Cooldown:
(all abilities have cooldowns.)
Name:
(this can be anything. Mostly for flavor.)
Type:
(Offensive, Defensive, Support, Restorative)
Damage Category:
(If any; Very Weak, Weak, Average, Strong, Very Strong)
Description:
(give the ability a good description to show how it works and what it does)
Cooldown:
(all abilities have cooldowns.)
Apprentice Martial Powers
[/center]
Name:
(this can be anything. Mostly for flavor.)
Type:
(Offensive, Defensive)
Damage Category:
(If any; Very Weak, Weak, Average, Strong, Very Strong)
Description:
(give the ability a good description to show how it works and what it does)
Cooldown:
(all abilities have cooldowns.)
Name:
(this can be anything. Mostly for flavor.)
Type:
(Offensive, Defensive)
Damage Category:
(If any; Very Weak, Weak, Average, Strong, Very Strong)
Description:
(give the ability a good description to show how it works and what it does)
Cooldown:
(all abilities have cooldowns.)
[strike]
Regular Powers
Name:
(this can be anything. Mostly for flavor.)
Type:
(Offensive, Defensive, Support, Restorative)
Damage Category:
(If any; Very Weak, Weak, Average, Strong, Very Strong)
Description:
(give the ability a good description to show how it works and what it does)
Cooldown:
(all abilities have cooldowns.)
Name:
(this can be anything. Mostly for flavor.)
Type:
(Offensive, Defensive, Support, Restorative)
Damage Category:
(If any; Very Weak, Weak, Average, Strong, Very Strong)
Description:
(give the ability a good description to show how it works and what it does)
Cooldown:
(all abilities have cooldowns.)
Regular Martial Powers
[/center]
Name:
(this can be anything. Mostly for flavor.)
Type:
(Offensive, Defensive)
Damage Category:
(If any; Very Weak, Weak, Average, Strong, Very Strong)
Description:
(give the ability a good description to show how it works and what it does)
Cooldown:
(all abilities have cooldowns.)
Name:
(this can be anything. Mostly for flavor.)
Type:
(Offensive, Defensive)
Damage Category:
(If any; Very Weak, Weak, Average, Strong, Very Strong)
Description:
(give the ability a good description to show how it works and what it does)
Cooldown:
(all abilities have cooldowns.)
[strike]
Elite Powers
Name:
(this can be anything. Mostly for flavor.)
Type:
(Offensive, Defensive, Support, Restorative)
Damage Category:
(If any; Very Weak, Weak, Average, Strong, Very Strong)
Description:
(give the ability a good description to show how it works and what it does)
Cooldown:
(all abilities have cooldowns.)
Name:
(this can be anything. Mostly for flavor.)
Type:
(Offensive, Defensive, Support, Restorative)
Damage Category:
(If any; Very Weak, Weak, Average, Strong, Very Strong)
Description:
(give the ability a good description to show how it works and what it does)
Cooldown:
(all abilities have cooldowns.)
Elite Martial Powers
[/center]
Name:
(this can be anything. Mostly for flavor.)
Type:
(Offensive, Defensive)
Damage Category:
(If any; Very Weak, Weak, Average, Strong, Very Strong)
Description:
(give the ability a good description to show how it works and what it does)
Cooldown:
(all abilities have cooldowns.)
Name:
(this can be anything. Mostly for flavor.)
Type:
(Offensive, Defensive)
Damage Category:
(If any; Very Weak, Weak, Average, Strong, Very Strong)
Description:
(give the ability a good description to show how it works and what it does)
Cooldown:
(all abilities have cooldowns.)
Background
History:
(tell us about your characters past)
Side notes:
(anything else?)
Rp example:
(Give us an example of your rp style. Note, you only need to do this for your first character.)
Admin





Posts

: 24


Join date

: 2013-04-16


Age

: 27


Location

: Ireland



---
Permissions in this forum:
You
cannot
reply to topics in this forum